Cirroctopodidae
Cirroctopus
Michael Vecchione and Richard E. Young
The following four species are included in Cirroctopus.
Introduction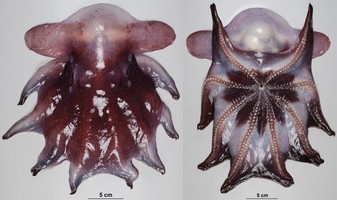 Figure. Dorsal and ventral views of Cirroctopus sp., Ross Sea, Antarctica. Photographs by Peter Marriott.

The family Cirroctopodidae contains a single genus. Members of Cirroctopus are more muscular than is typical for cirrate octopods. The fins are extremely large and the eyes tilt dorsally. Members of the genus are restricted to high latitudes of the southern hemisphere.
Brief diagnosis:
A cirrate ...
with very large fins.
with V-shaped shell.

without secondary webs.

Full diagnosis for family and genus (from Collins and Villanueva, 2006):
" Large cirrates with large, paddlelike and broad-based fins. Secondary web absent, shell V-shaped with lateral walls spikelike. Optic nerve passes though white body in 8–9 bundles. Radula absent. Posterior salivary glands absent. Digestive gland entire. Cirri of moderate length, approximately equal to maximum sucker diameter, commence between suckers 1 and 2. Gills of 'half- orange' form."
Characteristics
Arms and web

Suckers not enlarged in males.
Sucker aperature without tooth-like structures.
Cirrus length comparable to largest sucker diameter.
Web nodules absent.



Head


Beaks: Descriptions can be found here: Lower beak; upper beak.



Fins

Fins long (greater than body width) and very broad.



Mantle cavity

Click on an image to view larger version & data in a new window

Figure. Left - Diagram of G. glacialis with the ventral wall of the mantle cavity removed to show fusion of the mantle septum with the posterior mantle wall. Drawing from Vecchione and Young, 1997. Right - Ventral view of preserved gill of G. glacialis. Photograph by R. Young.

Mantle septum fused posteriorly with mantle wall. This feature is not known in other cirrates.
Gill (photograph above right) with half-orange appearance and with characteristic zig-zag arrangement of secondary lamellae.



Digestive tract

Caecum nearly equal to or much larger than stomach.
Intestine long (ca. 2.5 times esophagus length) with a variety of right-angle turns.
Unilobular digestive gland.

Click on an image to view larger version & data in a new window

Figure. Side view of the digestive tract of C. glacialis with the complex orientation of the intestine. The label "bend" indicates a sharp bend in the intestine toward the viewer that isn't otherwise clearly apparent. Drawing from Vecchione and Young, 1997.

Nephridial sacs

Nephridial sacs extensive (although the "extent" has not been clearly defined, we expect this to be an unusual feature in the Cirrata).
Nephridial sacs with glandular lining on walls of sacs in additional to renal appendages. This feature is not known in any other Cirrates.



Pigmentation

Areolar spots present in young and near eyes and base of fins in adults.



White body, optic lobe and optic-nerve tract

White bodies meet in dorsal midline.
Numerous optic nerve bundles penetrate white body.
Optic lobe kidney-shaped in cross-section.

Male reproductive system


Description of the male reproductive system can be found here.

Shell

Shell V-shaped with long wings and short saddle.
Comments
The four species of Cirroctopus are poorly differentiated at present. Although a few potentially differentiating characters are known, identification must rely heavily on geographic location until the species are better known.
Nomenclature
Cirroctopus
is a very distinctive genus. Its familial status was first suggested by Piertney et al. (2003) on the basis of the analysis of the mitochondrial 16S gene which showed it to be the sister group of Opisthoteuthidae (senso lato) with 70% support.
Distribution
Species of
Cirroctopus
are known only from Antarctic and Subantarctic waters.
References
O'Shea, Steve. 1999. The Marine Fauna of New Zealand: Octopoda (Mollusca: Cephalopoda). NIWA Biodiversity Memoir 112: 280pp.
Piertney, S. B., C. Hudelot, F. G. Hochberg, and M. A. Collins. 2003. Phylogenetic relationships among cirrate octopods (Mollusca: Cephalopoda) resolved using mitochondrial 16S ribosomal DNA sequences. Molecular Phylogenetics and Evolution, 27: 348-353.
Vecchione, M. and R. E. Young. 1997 Aspects of the functional morphology of cirrate octopods: locomotion and feeding. Vie Milieu 47(2):101-110.
Voss, G. L. and W. G. Pearcy. 1990. Deep-water octopods (Mollusca: Cephalopoda) of the Northeastern Pacific. Proc. Calif. Acad. Sci. 47: 47-94.
About This Page


National Museum of Natural History, Washington, D. C. , USA



University of Hawaii, Honolulu, HI, USA

Page copyright © 2016 and

Page: Tree of Life Cirroctopodidae Collins and Villanueva 2006. Cirroctopus Naef, 1923. Authored by Michael Vecchione and Richard E. Young. The TEXT of this page is licensed under the Creative Commons Attribution-NonCommercial License - Version 3.0. Note that images and other media featured on this page are each governed by their own license, and they may or may not be available for reuse. Click on an image or a media link to access the media data window, which provides the relevant licensing information. For the general terms and conditions of ToL material reuse and redistribution, please see the Tree of Life Copyright Policies.
First online 13 May 2003
Content changed 27 February 2016
Citing this page:
Vecchione, Michael and Richard E. Young. 2016. Cirroctopodidae Collins and Villanueva 2006. Cirroctopus Naef, 1923. Version 27 February 2016 (under construction). http://tolweb.org/Cirroctopus/20103/2016.02.27 in The Tree of Life Web Project, http://tolweb.org/
edit this page