David R. Maddison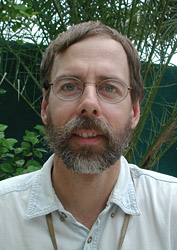 My interests in arthropods started many years ago. I remember vividly in grade 5, in Edmonton, Alberta, Donna Mayer was sitting closer to the classroom door than I was. As a result, she got to pick the topic of her report before I did, and she choose as her animal a grasshopper; I was so disappointed, as that was the only insect on the list of possible projects.
Other than watching Carabus nemoralis and Dytiscus on my way to school, however, I didn't get into arthropods in a serious way until I was 13. That summer, my twin brother Wayne and I became fascinated with jumping spiders after Wayne discovered a Phidippus audax as we were playing together on the shores of Lake Ontario. Two years later I started collecting beetles (weevils of all things), but then the fortuitous discovery of two tiger beetles (Cicindela limbalis and Cicindela sexguttata) led me into the world of ground beetles (carabids).
Our family vacations were collecting trips, with my parents taking us across the northern USA, across Canada, and down to Florida so that Wayne and I could collect spiders and beetles. When back in Ontario, my brother and I would spend weekend mornings at the University of Guelph library photocopying books on spiders and beetles, and through this I learned of a carabid expert in western Canada: George Ball. When I was 16 I wrote a letter to him; George's generosity in writing me a lengthy, thoughtful response went a long way to solidifying my passion for beetles. It was during these days as a high school student that I developed my interest in insect illustration, something I rarely get to do any more.
While doing an undergraduate degree at the University of Toronto, I found the entomological love of my life, the ground beetle genus Bembidion. I worked on Bembidion for my Master's degree with George at the University of Alberta, and then went to Harvard to study theory of systematics.
I was a faculty member from 1992-2009 at the University of Arizona, and moved to Oregon State University in September 2009. In addition to my work on beetles, I look after the Tree of Life Web Project, and work on the phylogenetic analysis software packages MacClade and Mesquite. I like nothing better than to spend days in the field looking for Bembidion along river shores in wonderful places (like Chile or Nova Scotia), or looking at beetles under the microscope, or getting DNA sequences from them, or spending the evening writing Java code to add cool tools to Mesquite.