Trogloglanis
Trogloglanis pattersoni
Toothless Blindcat
Larry Page
Identification
The Toothless Blindcat lacks eyes and jaw teeth, and is pinkish white. The lips are thin at the corner of the mouth and the short, lower jaw is curved upward into the mouth. The snout overhangs the mouth. The gill membranes are fused with a barely visible fold between them. The head and snout are rounded in profile. There is a long, high adipose fin joined to the caudal fin. The anal fin is short and rounded with 16-17 rays. The edge of the caudal fin is straight or slightly notched. There are well developed lateral-line canals and pores on the head. The Toothless Blindcat lacks an air bladder. To 4 in. (10.4 cm) total length.
Range & Habitat
Like the Widemouth Blindcat, Satan eurystomus, the Toothless Blindcat lives in the San Antonio Pool of the Edwards Aquifer in and near San Antonio in Bexar County, Texas, and is thought to be common.

Click on an image to view larger version & data in a new window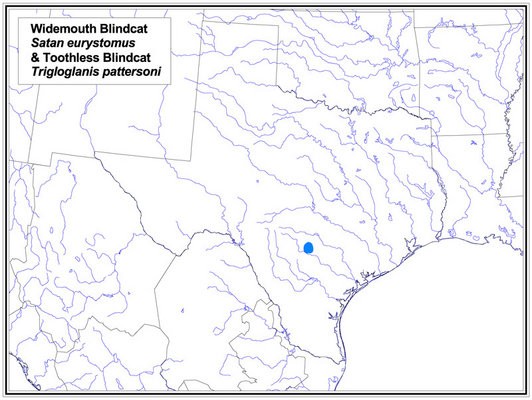 Distribution of Satan eurystomus and Trigloglanis pattersoni. © Larry Page
Similar Species
The other blind catfish in Texas, the Widemouth Blindcat, Satan eurystomus, has jaw teeth, separate gill membranes, and 19-20 anal rays, and the lower jaw is not curved upward into the mouth.
About This Page
Larry Page


Florida Museum of Natural History, Gainesville, Florida, USA

Correspondence regarding this page should be directed to Griffin Sheehy at and Larry Page at

Page copyright © 2007 Larry Page
First online 23 May 2007
Content changed 23 May 2007
Citing this page:
Page, Larry. 2007. Trogloglanis. Trogloglanis pattersoni Eigenmann 1919. Toothless Blindcat. Version 23 May 2007 (under construction). http://tolweb.org/Trogloglanis_pattersoni/69910/2007.05.23 in The Tree of Life Web Project, http://tolweb.org/
edit this page