Ocyolinus
Stylianos Chatzimanolis
Ocyolinus amethystinus
Ocyolinus astenos
Ocyolinus dimoui
Ocyolinus ganglbaueri
Ocyolinus nebulosus
Ocyolinus rugatus
Introduction
Ocyolinus occurs in tropical rain and montane forests and similarly to Isanopus, it appears to be quite rare in collections. Most specimens have been collected in flight intercept traps and fewer in leaf litter. Ocyolinus is distributed from Guatemala to Venezuela. Ocyolinus was described by Sharp in 1884. The genus included two species, O. rugatus Sharp, 1884 from Venezuela and O. amethystinus Sharp, 1884 from Costa Rica. Later, Bernhauer (1906) described two more species, O. vulneratus Bernhauer, 1906 and O. ganglbaueri Bernhauer, 1906, both from Venezuela. Chatzimanolis (2009) in the revision of the genus described three additional species (O. astenos, O. dimoui and O. nebulosus), and placed into synonymy O. vulneratus with O. rugatus.
Characteristics
Ocyolinus can be distinguished from other genera in the subtribe Xanthopygina by the combination of the following characters:
mandibles extremely elongate, each with a single triangular tooth that is typically slightly different in right and left mandible
maxillary and labial palpi expanded, but never as dilated as in Dysanellus Bernhauer, 1911
antennomere 11 with a distal white patch of setae
head subquadrate, never trapezoid (as in Dysanellus or Torobus Herman, 2001)
integument of head and pronotum with microsculpture
terga V–VI without subbasal carinae
median lobe of aedeagus with a pair of dorsal teeth.
Due to body coloration, Ocyolinus looks superficially similar to several species of Gastrisus Sharp, 1876, Nausicotus Sharp, 1884 and Torobus, but can be easily distinguished from them because the latter species do not have elongate mandibles.

Click on an image to view larger version & data in a new window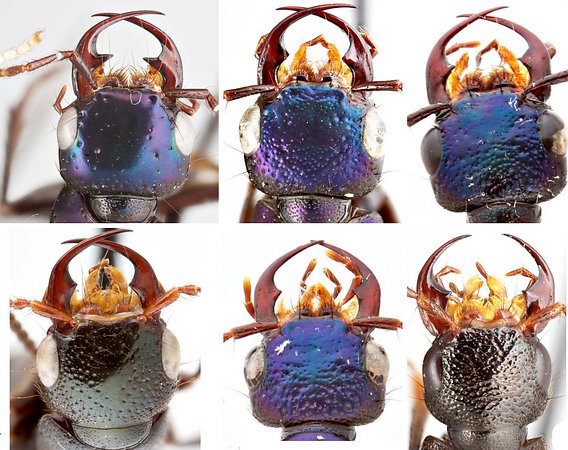 Top row, from left to right: O. amethistinus, O. astenos and O. dimoui.
Bottom row, from left to right: O. ganglbaueri, O. nebulosus and O. rugatus. © 2009 Stylianos Chatzimanolis
With the exception of O. rugatus (rugose sculpture) and O. amethystinus (very few punctures on head and pronotum) species of Ocyolinus may be challenging to identify. The remaining species can be reliably identified based on the shape of the mandibles and the shape of their aedeagi.
References
Bernhauer, M. 1906. Neue Staphyliniden aus Südamerika. Dtsch. Entomol. Z., 1906:193–202.
Chatzimanolis, S and J. S. Ashe. 2009. A revision of the neotropical genus Ocyolinus (Coleoptera: Staphylinidae: Staphylinini). Zootaxa 2162:1–23
Sharp, D. 1884. Staphylinidae. In: Biologia Centrali-Americana. Insecta. Coleoptera 1(2). Taylor & Francis, London, pp. 313–392.
Information on the Internet
About This Page
Stylianos Chatzimanolis


University of Tennessee at Chattanooga

Correspondence regarding this page should be directed to Stylianos Chatzimanolis at

Page copyright © 2012 Stylianos Chatzimanolis

Page: Tree of Life Ocyolinus. Authored by Stylianos Chatzimanolis. The TEXT of this page is licensed under the Creative Commons Attribution License - Version 3.0. Note that images and other media featured on this page are each governed by their own license, and they may or may not be available for reuse. Click on an image or a media link to access the media data window, which provides the relevant licensing information. For the general terms and conditions of ToL material reuse and redistribution, please see the Tree of Life Copyright Policies.
First online 21 April 2012
Content changed 21 April 2012
Citing this page:
Chatzimanolis, Stylianos. 2012. Ocyolinus. Version 21 April 2012 (under construction). http://tolweb.org/Ocyolinus/10275/2012.04.21 in The Tree of Life Web Project, http://tolweb.org/
edit this page