Noturus flavipinnis
Yellowfin Madtom
Larry Page
Identification
The Yellowfin Madtom has a stout body with the deepest point located in front of the dorsal fin. The body is yellow with dark mottling, specks and 4 dark saddles above, and is yellow to white below. A brown saddle in front of the dorsal fin usually encloses 2 light spots. The fins are yellow with dark bands or mottling at the middle and near the edges. A bold black bar on the base of the caudal fin extends from the top to the bottom of the fin. The dark saddle under the adipose fin extends to the edge of the fin. The caudal fin has a pale edge. The adipose fin is nearly free from the caudal fin. The caudal fin is straight or slightly rounded. The pectoral spine has 4-10 large teeth on the rear edge and several large teeth on the front edge. The anal fin has 14-16 rays. To 6 in. (15 cm) total length.
Range
The Yellowfin Madtom is found in the upper Tennessee River drainage in Virginia, Tennessee, and Georgia. The species is extremely rare, has disappeared from many historical sites, and is protected as a threatened species.

Click on an image to view larger version & data in a new window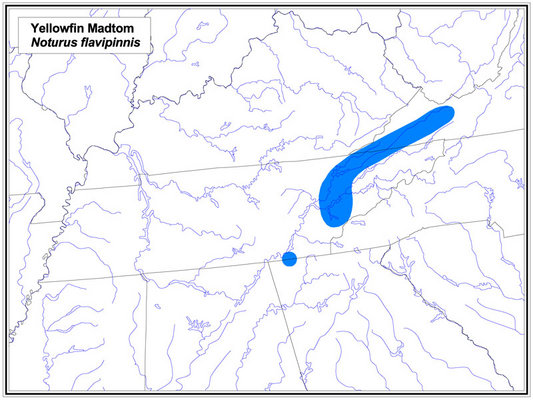 Distribution of Noturus flavipinnis. © Larry Page
Habitat
The Yellowfin Madtom inhabits pools and backwaters around slab rocks, bedrock ledges, and tree roots in clear creeks and small rivers.
Similar Species
The Brindled Madtom, Noturus miurus, and Checkered Madtom, Noturus flavater, have a black blotch on the dorsal fin and a black or brown border on the caudal fin.
About This Page
Larry Page


Florida Museum of Natural History, Gainesville, Florida, USA

Correspondence regarding this page should be directed to Larry Page at and Griffin Sheehy at

Page copyright © 2007 Larry Page
First online 23 May 2007
Content changed 23 May 2007
Citing this page:
Page, Larry. 2007. Noturus flavipinnis Taylor 1969. Yellowfin Madtom. Version 23 May 2007 (under construction). http://tolweb.org/Noturus_flavipinnis/69879/2007.05.23 in The Tree of Life Web Project, http://tolweb.org/
edit this page