Illex coindetii
Michael Vecchione and Richard E. Young
Introduction
This species has the broadest distribution within the genus, being found found on both sides of the North Atlantic. It is common in the eastern North Atlantic and Mediterranean and it the target of commercial fisheries there.
Characteristics
Arms

Hectocotylus (either left or right arm IV)

Click on an image to view larger version & data in a new window

Figure. Oral view of the hectocotylus and selected suckers of I. coindetii. Upper arrows mark the divisions between the three divisions of the hectocotylus. Drawing modified from Naef (1921-23).

Hectocotylus shorter than or equal to its opposite arm in length, always equal in thickness.

Distal portion (HA3) about 25% (17-30%) of total arm length; dorsal series starts with 1-2 proximal conical knobs followed by truncate lamellae; ventral series starts with 1-2 conical knobs followed by digitate papillae.
Basal portion (HAb) about 13% (10-14%) of total arm length.
Proximal portion (HA1) with 5 - 7 pairs of normal suckers increasing in size distally.
Middle portion (HA2) with suckers about 1/2 diameter of proximal suckers; sucker series widely separated; conspicuous constriction between HA1 and HA2.
Trabeculae distal to largest normal suckers (HA1) modified as fringed lobes.


Tentacles


Largest distal medial manal sucker-rings notched in distal half or all around.



Head

Head-width index high, 19-26.

Beaks: Lower beak with jaw edge long, wings long and wide, rostral width narrow, lateral wall short. Upper beak with hood long, shoulder smooth, rostrum long, wing short, jaw angle with small notch but no tooth, lateral wll short, crest curved .



Fins

Fin angle > 50°.



Reproductive structures

Spermatophore: "Spermatophore cone at oral end of cement body, low, rounded triangle lens-shaped or diamond-shaped in outline; oral tube broad; aboral neck of cement body very short, broad, indistinct." (Roper, et al., 1998).
Distribution
Figure
. Distribution chart of all four species of
Illex
; modified from Roper et al. (1998).
Geographícal Distribution : Eastern Atlantic: 15°S to 60°N, Mediterranean and Black Sea. Western Atlantic: Caribbean Sea, Gulf of Mexico and southeast Florida; 1O°N to 27°N.


Click on an image to view larger version & data in a new window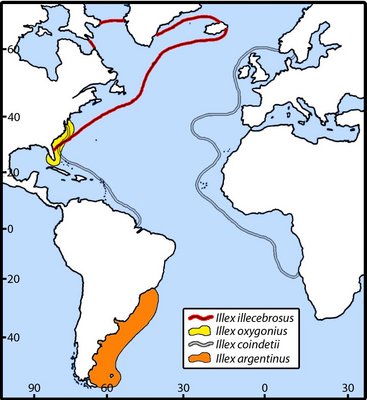 Figure
. Distribution chart of all four species of
Illex
; modified from Roper et al. (1998).
Vertical distribution: I. coindetii is a semidemersal, oceanic and neritic species occurring from the surface to about
1000 m depth. In the Caribbean it is common between 180 and 450 m and in the western Atlantic between 200 and 600 m.
In the eastern Atlantic it is common between about 150 and 300 m and in the Mediterranean between 60 and 400 m depth
.
The squids are known to carry out diel vertical movements: they are associated with the bottom (usually muddy to silty grounds) during the day and disperse into the water column at night. They also migrate seasonally between deeper waters in winter and shallower waters in the summer.
About This Page


National Museum of Natural History, Washington, D. C. , USA



University of Hawaii, Honolulu, HI, USA

Page copyright © 2018 and

Page: Tree of Life Illex coindetii (Verany 1839). Authored by Michael Vecchione and Richard E. Young. The TEXT of this page is licensed under the Creative Commons Attribution-NonCommercial License - Version 3.0. Note that images and other media featured on this page are each governed by their own license, and they may or may not be available for reuse. Click on an image or a media link to access the media data window, which provides the relevant licensing information. For the general terms and conditions of ToL material reuse and redistribution, please see the Tree of Life Copyright Policies.
First online 13 January 2011
Content changed 13 January 2011
Citing this page:
Vecchione, Michael and Richard E. Young. 2011. Illex coindetii (Verany 1839). Version 13 January 2011 (under construction). http://tolweb.org/Illex_coindetii/77444/2011.01.13 in The Tree of Life Web Project, http://tolweb.org/
edit this page