Ictalurus balsanus
Balsas Catfish
Identification
The Balsas Catfish is similar to the Channel Catfish, I. punctatus, but can be distinguished by the presence of a backward extension on each side of the premaxillary toothpad.
Range
The Balsas Catfish occurs in the Rio Balsas drainage on the Pacific Slope of Mexico.

Click on an image to view larger version & data in a new window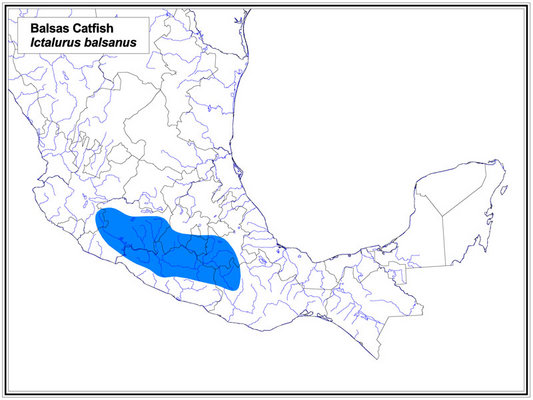 Distribution of Ictalurus balsanus © Larry Page
Habitat
The Balsas Catfish lives in clear, deep pools and runs of creeks and small to medium-sized rivers.
About This Page
Page copyright © 2007
First online 23 May 2007
Content changed 23 May 2007
Citing this page:
Tree of Life Web Project. 2007. Ictalurus balsanus (Jordan & Snyder 1899). Balsas Catfish. Version 23 May 2007 (under construction). http://tolweb.org/Ictalurus_balsanus/69928/2007.05.23 in The Tree of Life Web Project, http://tolweb.org/
edit this page